Document outlawed by Indonesia was 'smuggled from one end of Papua to the other' and signed by 70% of the population.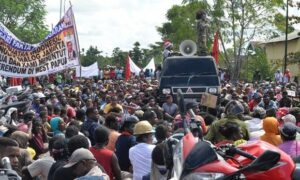 Australia must support the pleas of the West Papuans on the floor of the United Nations. The DLP is committed to the cause of the West Papuan people.
The following story in the Guardian explains how 1.8 million West Papuans have taken an incredibly brave and dangerous stand against the threats of the Indonesian military in the hope that the world will finally open its eyes to the atrocities they have endured for over 50 years.
https://www.theguardian.com/world/2017/sep/27/banned-west-papua-independence-petition-un