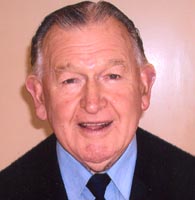 It is with great sadness we share the news that Frank Scully, the last surviving DLP member of the Victorian Parliament of the 28 MPs who split to form the ALP (Anti-Communist) in 1955, has passed away, aged 95 years.
Before joining the ALP(AC) which later became the DLP, Frank had been serving in the Cain Government as Assistant Minister of Lands, Assistant Minister of Electrical Undertakings, and Secretary to Cabinet.
Frank won Richmond in the Assembly as an ALP(AC) candidate in 1955 and served one term, alongside 5 members in the Council. It was not until 2006 that the DLP was again elected to the Victorian Parliament.
A railway worker, Frank was active in the Australian Railways Union Industrial Group. Frank was also a member of the Catholic Social Studies Movement ("The Movement") in Victoria.
The DLP extends its heartfelt condolences to all of Frank's family and friends.
Frank's courage and determination helped establish the DLP and for that he will never be forgotten.