2023 is a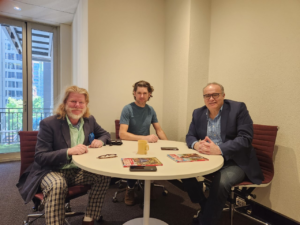 n exciting year for us. Adem Somyurek MLC is already making himself known as a DLP leader. He is an experienced politician and he will prove most effective in the Victorian Upper House.
Cary de Wit (Secretary, Victorian State Executive) and I are planning to recruit and spread the DLP influence across key electorates. Cary is a dedicated party Secretary. I wish to applaud his work in the November state elections; Cary ran 50 candidates and raised funding to print over a million How to Vote Cards. He is a political whirlwind.
Cary and I wish to thank all the party faithful who ran in the Victorian election. You were a success! The DLP Primary vote across the state blossomed because of your energies. The two major parties have taken note of our successes; I expect they will be eager to swap preferences in 2026!
Before the state election our small branches were decanted into a Super Branch to support Bernie Finn. This Super Branch has proved to be an advantage and it will continue through 2023 as we consolidate and build membership. Of course, this Super Branch is now supporting our sitting member.
Our Victorian State Executive is meeting regularly. We are working together and have already met to scope our prospects for the 2026 state election. Our aim is to return Adem to parliament and to win another 2 or 3 seats. Given last year's success with only three months planning, (I confess we were hard pressed for time), I believe our goals are within our grasp.
Once again I thank the DLP faithful. Your support and enthusiasm contributed to a great election result. The VEC website records our achievements across Regions and Districts – from North Metro to Croydon.
As President I am committed to electoral successes.
Wishing you all the best in the coming year,
H. Dolan
DLP Victorian President