The 2022 Victorian Elections has seen a record number of candidate nominations come through to stand for the Democratic Labor Party across the state.
Our State Executive had the task of screening some truly outstanding citizens, determined to make their communities a better place if elected to represent them.
We arrived at our Upper House Candidates carefully, taking into consideration various qualifications – the key ones being dedication to the core values and philosophies of the DLP, along with their proven grit and determination over the years.
Apart from the big named MPs who everyone is aware of – Bernie Finn MP and Adem Somyurek MP – we would like to take a moment to introduce a few others now…
Hugh Dolan (pictured above) is the Victorian State Secretary of the Democratic Labour Party and is standing as the lead candidate in Victorians North Eastern Region. Mr Dolan joined the DLP because of the policies around education and care for children, out of his concern for the education of his three boys – who attend primary and state high schools.
"I am outraged that they are constantly bombarded with questions on sexual identity and a leftist dogma," he said.
Hugh is keen on responsible government, something that he believes "Victorians have been lacking under the Andrews regime."
He appreciates the founding principles of, what he calls, "the real labour party stemming from the labour movement," as his work experience ranges from a first job on the production line at Toyota in Fisherman's Bend in the 1980s, then moving into bar tending, waitering, cleaning and eventually advertising copywriting before "reading history at Oxford University."
Committed to the pursuit of freedom, Hugh then enjoyed service with the Army and the RAAF. In latter years, Hugh has authored a number of books and documentaries on Australian history and is passionate about "maintaining and upholding the things that make our nation truly great."
Standing in second on his ticket is young political up and comer, owner of a Domestic and Commercial Building Maintenance company, Brenton van der Ende. Brenton is enthused about the DLP and what it promises for his future: "I look forward to one day getting married and having children of my own," said the small business owner, "and I know that if the DLP has the balance of power in our Parliament then our rights as a working family will be best represented."
——-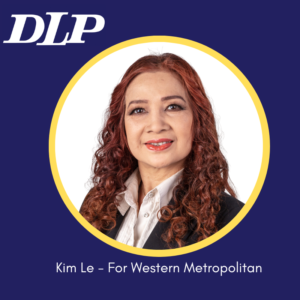 Over next to Bernie Finn, we have Ms Kim Le, an upstanding member of the Victorian Vietnamese Community and a successful small business owner in her own right. Hosting the Campaign Launch of the DLP at her friends' restaurant in the Western Metropolitan region for which she is standing, she commented on how encouraged she is to be able to work with a political party who is genuinely established to work for the preservation of freedom in her state and nation of Australia.
"I was running my own business here these past 30 years," she told hundreds of audience members.
"I've seen that a Victoria under Dan Andrews simply does not work in the best interest of small business, he does not serve our whole community. This is why I am proud to be standing with the DLP to do my best for every Victorian."
——-
Running 2nd then to Somyurek on the Northern Metro ticket is DLP Victorian State Secretary, Cary de Wit. Mr de Wit announced at the same campaign launch as Ms Le that he had once been a card carrying Liberal voter until just two years ago when he "saw the light."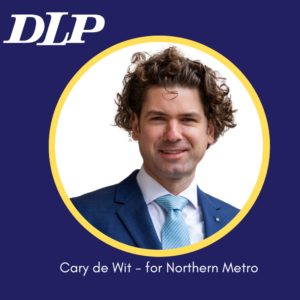 Mr de Wit says he joined the Democratic Labour Party "joined the Democratic Labour party to ensure that the dignity of all peoples in his community are protected and promoted in accordance with our constitution and that we thrive, not merely survive."
It's the DLP servant leadership style that appealed to De Wit, who identifies as a "mere Victorian trying to do my best for other Victorians" and the party's defense of freedom and democracy appealed to him after his ten year commitment (2008-2018) in the Infantry of the Australian Army Reserves.
"I found himself especially moved when deployed overseas, making me even more grateful for what we have in Australia and while I continue to volunteer for the Red Cross and Salvos whenever possible to keep my hand in, I felt that political candidacy was what I really need to do as defense of an Aussie Fair Go was fundamental following on from Andrews Dictatorial style of governing."
As a small business operator of a commercial construction company and licenced plumber, De Wit also seeks to work alongside Adem Somyurek to "protect the rights of workers, as the DLP does so well through its policies."
Family is also a big thing for Cary de Wit as throughout all pursuits, he says his three children are his biggest motivating factors for ensuring the best present and future for his constituents, as is his relationship with his parents underlines a passion for protecting the rights of elders.
——-
Mrs Jen Bowden says she "became very disillusioned with the major parties" and that when she read the DLP policies she didn't hesitate to join the party and stand for pre-selection for the seat of South East Metropolitan.
"My vision is for a community which enables everyone to study, work, relax ,develop different skills and to thrive and to reach his or her full potential,and most importantly for children to have a childhood free from being unnecessary anxiety," she explained. "A community where support and assistance is available to meet and deal with the challenges we all invariably face, where families are strong and are supported in times of crisis.

Ms Bowden was a lawyer for decades and says that during her career, she "endeavoured to help clients and their families reach practical solutions and to discern paths that would lead to less rather than more conflict…Like this, I hope to be a voice for sanity and community rather than further marginalisation and conflict."
——-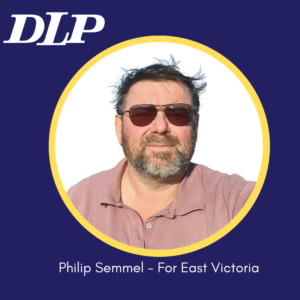 When not standing as a DLP candidate for the Upper House seat of the Eastern Metropolitan Region, Mr Phillip Semmel works as an engineer to ensure sites are safe to build on. So he knows how important it is to have a good foundation for our community.
Having followed the DLP most of his voting life, Semmel says that he put his hand up to stand now because he recognises the desperate need of Victorians to experience better representation than we have been getting.
"The DLP offers real hope for the Victorian community and the families of Victoria," he told a recent DLP pre-campaign gathering. "We urgently need that today after the awful way the state government has treated us."
An active volunteer across many community organisations, Semmel's vision is that "we can live our lives with decent jobs, with great education, with reliable health and emergency services, improved transport and without the fear of excessive government interference in our lives."
Fed up with the activities of extreme left wing politics, Semmel echoed a sentiment shared by all DLP Candidates alike that "If elected, I look to work with my colleagues to bring balance back to the Legislative Council so that items that go into law are centralist and the agenda of the extreme left is thwarted right there."
This passion to maintain a more centralist focus for the good of all is something the traditional labour movement, on which the Democratic Labour Party is founded, espouses across the board. In all its years of maintaining a political presence, it has never waivered in its commitment to its core principles regardless of the cost to its own promotional opportunities.
——
Theodore Tsiongas is an IT Professional who has always lived in and around the Oakleigh district so that standing for the Southern Metropolitan Region is a natural fit.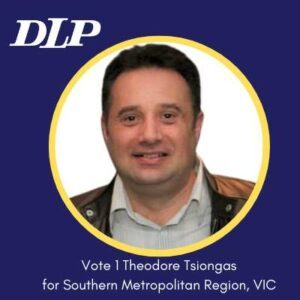 "I'm delighted to be the Labour DLP candidate here," said the son of migrant parents and father of an eight-year-old daughter.
"I witnessed my parents hard work and commitment to create a better life, which is instilled within me and I pledge to deliver a strong voice and real positive change for the region."
Tsiongas explained that having such a connection with the local district has provided him with the capacity to hear the community frustration and anger they are feeling at the government, first hand.
"The community is crying out for a change – a change for the better," he said. "This change is achieved by providing an option of trust, belief and confidence for a better tomorrow and it is wholly realised by the Democratic Labour Party."
Tsiongas noted: "My reason to run as a candidate is simple: To correct the inadequacies, restore trust and support families, workers and the community."
Mark Royal has been a member of the DLP for many years and have voted for them since he was 18 year old.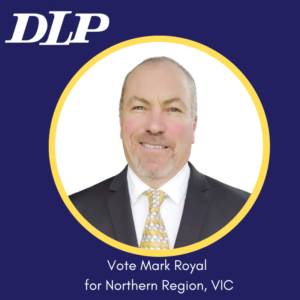 He says, "The DLP is the only party that seeks to promote justice, truth with integrity across the board without compromise. I am standing for the D.L.P. because I believe we have a crisis of leadership in society and particularly in parliament."
Mark shares the DLP vision for the community saying he wants to "promote and re-establish traditional family values which have come under severe attack in recent times. The family is the bulwark and foundation of society and must be protected and encouraged in order for a healthy community to flourish."
Mark's wife and he have been married for 30 years and have 5 children and 5 grandchildren. They have all played an active role both in the community and in the church.
He added, "If elected, God willing, I will seek to promote our party ideals and policies. I will engage the community and listen to their concerns. I will help promote and support any legislation that is in harmony with truth and justice, policies that will benefit the community in a positive way."
So, with this line up of people devoted to serving their communities, Victorians cannot put a step wrong by placing a 1 next to any of their names.