Now it's time for some accountability Mr Andrews!
The DLP has hard hitting Adem Somyurek MP, former ALP powerbroker, working with us to keep the ALP in check like you've never experienced before and keeping the most central party in the news cycle till polling…
By Cath Toomey, Media Liaison Officer DLP
Adem Somyurek MP is a welcome addition to the DLP team ahead of the Victorian State Election this month as we seek to ensure Andrews is held to account inside and outside of Parliament House.
However, the news seems to be upsetting the electoral apple carts as the move poses a genuine threat to the Andrews' government which so many across the state have been yearning to happen in this race to voting on November 26th.
Somyurek is a man with a uniquely intimate understanding of what makes this dictator, I mean premier, tick.
"I have competed with Andrews and sometimes worked with him for over twenty-five years in the ALP's toxic factional system, as a parliamentarian and as a minister," explained Mr Somyurek.
"Andrews has no internal opposition inside the ALP because by hook or by crook he has quashed any dissent or exiled anyone with the strength to demand collective decision-making, transparency and accountability."
Reports across various media outlets, after the news broke on Monday the 7th of November, noted that "If elected to the upper house Mr Somyurek could cause chaos during the next parliamentary term, particularly with pollsters flagging the real possibility of a minority government."
The Herald Sun went on to say "The move could see the former ALP powerbroker turned into a political kingmaker. For instance, in November he caused mayhem after breaking his self imposed parliamentary exile to block the government's pandemic management legislation."
Mr Somyurek is joining DLP Victorian State Leader, Bernie Finn MP, in an unprecedented union between sitting MPs from opposite sides of the parliamentary floor.
But Finn, like Somyurek, is unwavering in his commitment to ensuring government accountability to operate in the traditional ideals of the original labour movement supporting the best interest of families, workers and the state while rejecting extreme leftist dogmas.
At a Monday morning door stop interview on the steps of the Victorian Parliament, Mr Finn said: "Adem is genuinely a good bloke who's serious about his politics and just like myself with the Libs, he was pushed aside because he was fighting the left."
Finn went on to point out that he and Somyurek have even voted together on issues their respective parties were voting differently to, such as the abortion law reform bill.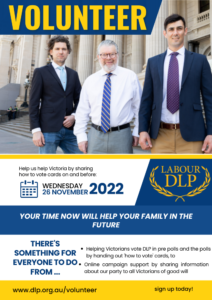 Mr Somyurek emphasised he will sit in the "sensible centre of Victorian politics" while running as the DLP candidate for the Northern Metropolitan region.
Mr Somyurek, who was first elected in 2002, served the last part of his current term as an independent after a fallout with Mr Andrews, much like many of his colleagues this year.
Prior to that, Mr Somyurek had served in a number of ministerial roles in the Andrews government including local government and small business.
He stands with us at the insistence of a plethora of constituents reached out and asked him to remain. It's with the Democratic Labour Party that he feels he can still make a quality difference for his beloved state –
"While many people are intimidated by Andrews, I have his measure and will hold him to account."
So, whatever anyone's voting preferences, if they seek a historic freedom party with quality policies, then perhaps it might just enable truth tellers into the mix within Spring Street.
May it then be a golden era of truth telling and real representation of the peoples real interests!
If you, or anyone else, would like to help us to help Victoria, please contact our Victorian Secretary, Cary de Wit, at vicsec@dlp.org.au who will welcome you and assign a volunteer role.
_________________________________________________________
24 HOURS IN THE NEWS:
Daily Telegraph – READ HERE
"'Owe it to Victoria': Adem Somyurek the 'best person' to hold Premier to account"
3AW Interview – LISTEN HERE
"He's spent too long lecturing the working class … and for too long he's been left unchecked," says Adem Somyurek.
ABC News – READ HERE
"Former Labor MP Adem Somyurek to run alongside Bernie Finn in Victorian election"
SKY News – WATCH HERE
Adem Somyurek defends integrity in election bid as he promises to play 'big role in holding Daniel Andrews to account'
Herald Sun – READ HERE
Somyurek returns to politics to 'hold Dan to account'
SKY News – WATCH HERE
Daniel Andrews weighs in on Adem Somyurek's decision to run for Democratic Labour Party at Victorian State Election
The Advertiser – SEE HERE
NT News – HERE
Victorian Labor Party are 'inner-city elitists' taking working class 'for granted'